Welcome to Henry Sukendro's Home Page
---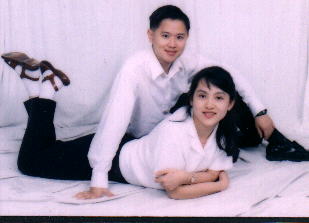 Huawen and Henry
I received my MBA degree from Oregon State University. During my undergraduate years, I took Business Administration at the College of Business. I was pursuing a double major concentration. I was taking Management Information Systems (MIS) and Business Management. I was also minoring in Computer Science. You can browse my resume from this homepage. I am still a novice user in designing a Web Page.
I'm currently working as a Customer Support Analyst with Computran Systems, Inc. We are the maker of LifeStory, a leading software brand in the Long-term Care Industry.
---
Great Links :
You can learn more about my beautiful country Indonesia by visiting the homepage.

You can read today's news on Indonesia from Suara Pembaruan Online, a famous Indonesian newspaper. You can also check Kompas Online, another famous Indonesian newspaper.

You can read the Bible from my homepage by clicking here.

Looking for games in the Internet ? Let my little penguin show you where to go.

Here is a cool place to look for sharewares & freewares. Try Jumbo.

Want to check the weather information ? Try CNN Weather Web Page.
---
Two Question Test Reveals Answer
Enjoy the cartoon version of this topic by clicking here.
---
---
You are visitor number:
This Home Page is maintained by Henry Sukendro using HTML Assistant and WordPad.



This homepage looks best using Netscape 2.0 or higher.
Please email inputs and comments to

sukendro@HomeMail.com.
Last Update: Friday, July 10, 1998.